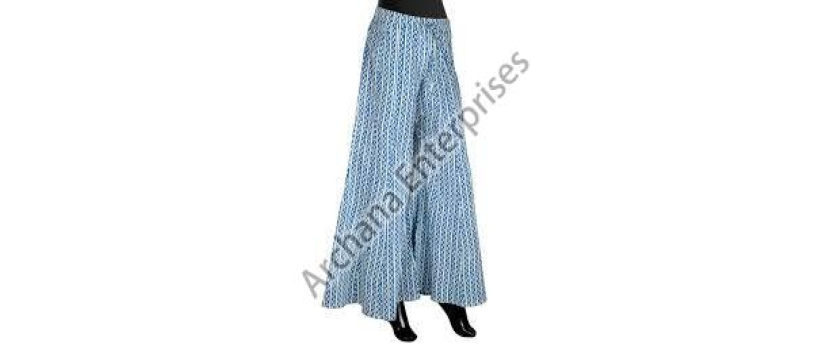 Ladies' palazzo pants have always been associated with comfort and style. Right from their inception by the fashion designers, ladies palazzo pants have made a huge comeback from the early 60s era and evolved as one of the trending style elements which amplify your fashion statement with its subtlety. Palazzo pants have garnered so much popularity and love from women across the world, that they are now the preferred option for both informal and formal wear.


From the office to loungewear, and from party wear to casual hangout; a ladies palazzo pant is now being worn for all occasions, given their comfort and classic style. For those confused about whether or not to invest in palazzo pants for their workplace, here are the best reasons explaining why you should.


Palazzo Pants, Unlike Tight Trousers, Are Breathable
When at work, your undivided attention should remain on completing your assignments on time and meeting deadlines, and not adjusting your trousers or facing discomfort. Sitting in a particular place for more than 8 hours every day is quite painful, especially if you are wearing something tight like a pair of skin-fit denim, or a tight dress. How about you try slipping into palazzo pants for a change? Palazzo pants are the best kinds of pant for the workplace as it lets your skin to breath and keeps your spirits for work higher.


Palazzo Pants Help You to Stay Cool During Summers
Palazzo pant is the answer to your workplace dress dilemma, irrespective of the weather. One of the primary reasons why people prefer palazzo pants over anything else is because they are designed in a way to keep all your sweating at bay. Plus, their classic wide-leg style doesn't go out of fashion. With palazzo pants, you no longer feel hot or any kind of discomfort.


You Style and Pair Palazzo Pants According to Your Choice
If you find palazzo pants to be excessively ethnic, then you can always wear them over your formal blazer and turn some heads. However, for those who find it too formal, wear a full-sleeve mandarin collar shirt tucked inside. And palazzo pants are a blessing for those who hate dressing up since you can always team it with a Kurti. Go on to keep innovating new looks with palazzo pants until you are satisfied.


Wear Palazzo Pants for Your Special Occasion
Palazzos are your go-to option when you have to wear something special to your workplace. When choosing from a ladies palazzo pant supplier, there are over a hundred styles in prints, floral, ankle-length that you can choose from. Palazzo pant is a perfect concoction of chic, posh, and modernism. To perk things up, try adding some accessories and jewellery to it.


Palazzo Pants aren't Only Sustainable but Also Stylish
Palazzo pants are known for their sustainability, given how they can last for about 5 years. It doesn't matter how you style the palazzo pants; they can still look subtle and sophisticated. Whether it is a small dress-up or a new addition to your closet, palazzo pants will never cease to become old and boring.


Palazzo Pant Styling Guide for You
Keep Boredom at Bay with Palazzo-Kurti Combination
Palazzo pants look good with both short and long Kurti styles, owing to the justice they do to both types. When you are thinking to pair a short Kurti with a palazzo, the combination looks ethereal. Just wrap it up by slipping into a stylish pair of sandals. However, in the case of long Kurtis, keep your style quotient low by maintaining a desi look.


Pair Your Palazzos with A White Basic Tee
Tees go well with palazzo pants. Complete the look by adding a leather Hobo handbag or a silver signature clutch. Tees are versatile clothing which if paired with palazzo pants can bring about a unique Indo-western look. To make an impression, try teaming up a striped palazzo pant with a white basic tee and sport a killer look right away.


Team up A Crop Top with Your Palazzo Pants
The fashion trends of the country are highly influenced by western culture; from food habits to clothing. Fashionista's love embracing style statements that are available outside their country. And one such style trend that women are adopting nowadays is a crop top with palazzo pants. The crop top looks astonishingly smart with palazzo pants and some jewellery like a statement bracelet or a big pendant. This is an easy-breezy style statement that one can follow for casual hangouts.


Ladies' palazzo pants don't follow any hard and fast rules in terms of styling. So, you can wear them in whichever way that suits you or the weather. However, the only tip to follow when slipping into palazzo pants is if you are wearing a bold-coloured top, then make sure your palazzo pant is in a simple or a solid colour design. Palazzo pants have made a great comeback and are here to stay for a while.