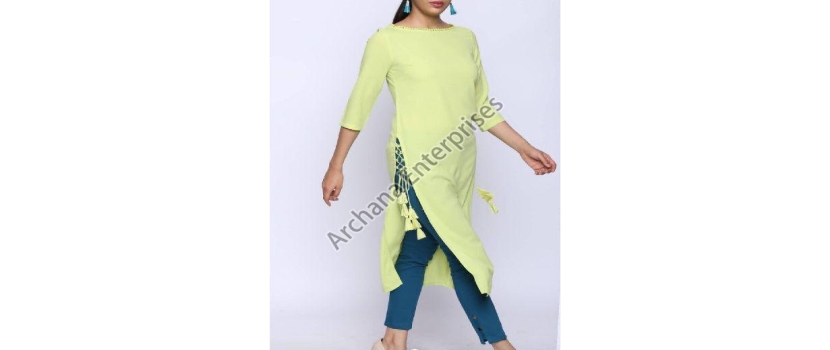 Indian fashion Kurtis and Salwar Kameez are not leading the world market very well. People like these comfortable and elegant wear. Designer Churidar, Salwar Kameez, Kurtis are the latest traits in Indian fashion, and some are pleased to see when embellished with gorgeous embroidery design.

In the wedding ceremony or family parties, these wears are preferred over others as per our Indian culture. Nowadays trending colours and fabrics are applied according to the seasonal guide by manufacturers and designers. Ladies Fashion Kurti, tunic with Kurti, are trending now. Kurti is known as a women's top and sometimes termed as the tunic. Many girls still think Kurti is well established to rock the Indian ceremonies over Salwar, Pant, jeans, skirt, etc. Even it has worldwide acceptance for its stylish, versatile, sincere, and decent look.
Indian Kurtis would be graceful in any wardrobe. There are many types of Kurtis available as designer Kurtis, Embroidered Kurtis, Cotton Kurtas, printed Kurti, Long Kurtis, Georgette Kurti, Ethnic Kurtis, etc.


Hence, Kurtis are essential to be in the Indian Wardrobe. The simple and versatile wear is royalty to bring for Indian women in the home, colleges, offices, and other settings. The cotton Kurtis isa very fine option for daily wear, and it is to be updated over time. Another important reason is that it is suitable for all women, be it a girl or middle-aged woman. It becomes the favourite choice for all, and henceforth you may see almost everyone in Kurtis.


If you require a fresh pair of Kurtis or you are looking at a new design to decorate the wardrobe, there are some options available to be the best choice. Follow these below-mentioned recommendations.


Geometric Print Light Blue Kurti:
Crafted in a simple silhouette and classic wear, it may become the favourite choice for your wardrobe. It features sleeves of three-fourth length, straight hem, round neck with only one button.


This Kurti will showcase its charm when paired with churidar or blue palazzos. You may wear silver jewellery to update your look with this kind of Kurti.


Straight Bright Pink Kurti:
For a unique and bright update to the wardrobe, you should choose this pink Kurti. It is an ethnic choice with a vibrant look. Try white churidar with it.
It is crafted with pure cotton and very comfortable for going outside as well.


It is perfect attire and has the same popularity as chic. With a band collar and summer colour, this Kurti will be amazing in hot summer conditions.


Even if you are having work from home advantage, you may wear this Kurti. It has breathability and pure comfort when you wear it.


Salwar Kameez:
Churidar Salwar Kameez and Salwar Kameez is also very popular Indian wear from the 19th century. It is mainly worn by Punjabis and so it is termed as Punjabi Suit. Popular Indian wear is evolving as respectable and comfortable wear in the world. There are some facts about Salwar Kameez that it is of great value, elegant, modest, graceful, etc. You may create length adjustments or design it in other ways to create the stylish yet decent look of a teenager.

Casual Wear For Indian Weddings Or Family Gatherings:
Churidar and Indian Kurtis look attractive for wedding parties, college functions, family gatherings, etc. Salwar, the baggy Pajama wear has narrow length at the bottom and wide at the top. The Kameez is known as a tunic or top with a long length up to our knees.


You can wish to have Kameez of different lengths as per the latest fashion trend. The Salwar and Kurti are stitched quite uniquely. While you can freely wear Kurtis, but in the case of Salwar, you need an elastic belt or drawstring.


The middle length of Salwar is quite wide while tapering down the ankle. Another version refers to the Churidar style especially known as tight trousers. But it has small folding around the ankle. Indians also use dupatta on their shoulders over Churidar Kameez or Salwar for modesty.


There are huge resources for Embroidered Kurtis, Designer Sarees, Salwar, Lehenga Choli, and others. Buying ladies' materials or garments from traders or retailers are more expensive as compared to buying from Ladies Fashion Kurti Supplier. There are some good resources available in Gujarat, Rajasthan for exporter and manufacturer of Kurtis, Salwar Suits, Kids Wear, Designer Sarees, etc. All products are stitched with awesome designs and stylish garments.


Kurtis and Salwar Kameez have beadwork or embroidery work or both. Kurtis is great-looking with fine fabric, and some are mind-blowing.